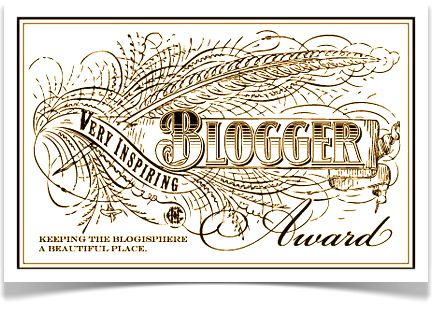 A big thank you to
Natural Kath
for nominating me for the
Very Inspiring Blogger Award
! This is my first blog award and I'm so excited. Visit
Natural Kath
if you haven't, she writes about green beauty and does great make-up swatches.
The rules for this award are:
Thank the person who nominated you and add a link to their blog.
Display the award on your post.
List the award rules so your nominees will know what to do.
State 7 things about yourself.
Nominate 15 other bloggers for the award.
Contact your nominees to let them know you have nominated them.
Provide a link to your post.
Proudly display the award logo (or buttons) on your blog side bar, ABOUT page, or a special page for awards.
7 random things about me:
I majored in Early Childhood Education and taught in various preschools for about 6 years, and then did another 2-years teaching stint in Japan.
I do not have a driving license, not in Singapore and neither here in the US.
I learned to ride a bicycle at age 25, just before I went to Japan!
My travel bucket list includes: Alaska, Peru, the African Safari, and Greece.
Technically speaking, Mandarin Chinese is my first language. It's compulsory to study 2 languages from pre-school age in Singapore, and I started using English solely to communicate with friends and peers at 17.
I love chocolate bars, but I really don't like chocolate ice cream/mousse cakes.
I climbed an active volcano mountain in Indonesia that took 7 hours and almost costed me my life.
And the nominees are: Marcella (
NatuallyMarcy
), Jana (
SmallBitsofLoveliness)
, Stephanie (
She's so eco
), Annabel (
Fragmented Splendour
), Britanie (
Beauty by Britanie
), Sarah (
bluegrass greengirl
), Ashley (
Green Beauty Life
), Brianna (
iluvjesse444
), Audrey (
Mademoiselle Nature
), Lilly (
Genuine Glow
), Vivi (
Ecobeautysecrets
), Melissa (V
ibrant Mind Body
), Sabrina (
Chickweed and Blush
), Jules (
The Natural Junkie
), and Paula (
Naturally Paula
).
Apologies if there're any repeats, 15 is a lot to nominate!
Also,
my bloglovin'
hit 100 followers the other day, thank you all for the love! It might be a small number to some, but I'm truly grateful that the green community has been so supportive and encouraging, which is really what keeps me going. I mentioned that I planning a giveaway when I hit 100 followers - it's in the works, I promise! x